Follow us on Twitter:@hamsportshof
The Hamilton Sports Hall of Fame is proudly supported by

United Trophy
Our hall of fame, and mutual respect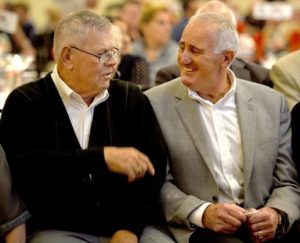 (Oct. 10, 2018 – By Scott Radley, The Spectator) It was during a training camp early in his career that his knee exploded. Ripped the ligament right off the bone. The kind of injury that hurts just to read about it. Actually doing it? Don't ask.
But with no signed contract and a pregnant wife at home, missing a whole season and the paycheques that came with it wasn't an option. So just a few weeks after his cast was removed, Peter Dalla Riva gritted his teeth and got himself back on the field for the Montreal Alouettes.
Tough? The man's synapses are clearly made of saddle leather and his psyche, of iron. Even so, there he was on Wednesday afternoon, softly dabbing at his eyes again and again as a video of his life played during his induction to the Hamilton Sports Hall of Fame.
Full story
Photo gallery
In memory of area football coach George Knill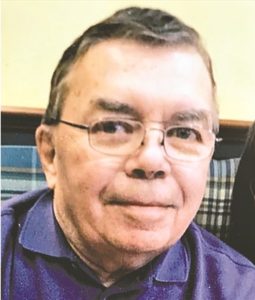 (Aug. 22, 2018) The Hamilton Sports Hall of Fame board sends condolences to the family and friends of George Knill, who passed away Tuesday in his 80th year. George was a well known coach from the Hamilton area schools and minor football community.
George was an esteemed graduate of Royal Military College of Canada in Kingston and a beloved math teacher for the Hamilton-Wentworth District School Board.
Join us for 9th HSHOF induction
(Aug. 17, 2018) The Hamilton Sports Hall of Fame will hold its 9th annual induction ceremony Wed., Oct. 10 at Michelangelo Events and Conference Centre. This year's class includes Don Sutherin and Peter Dalla Riva (football), Murray Oliver (hockey), M.M. Robinson (builder, British Empire Games) and the 1965 Stoney Creek little league baseball team.
Tickets are $35 each and will be available at Hutch's on the Beach and United Trophy in Hamilton, and R&R Trophies & Awards in Burlington.
Full HSHOF news release
Alphabetical list of inductees
Full story at thespec.com
Ryan Ellis signs 8-year contract with Preds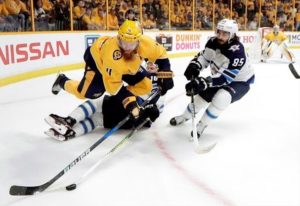 (Aug. 14, 2018 – The Canadian Press) Nashville Predators defenceman Ryan Ellis has signed an eight-year deal worth $50 million that keeps under contract through the 2026-27 season.
The 27-year-old Freelton native will earn $6.25 million annually starting in 2019-20. He has one year remaining on the five-year, $12.5 million contract he signed on Oct. 5, 2014.
The Predators now have three of their top four defencemen (Ellis, P.K. Subban and Mattias Ekholm) signed through the 2021-22 season and Roman Josi signed through 2019-20.
Hamilton Cardinals get rare playoff series win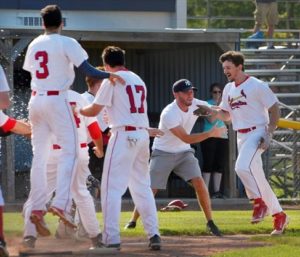 (Aug. 12, 2018 – Scott Radley, The Hamilton Spectator) The magnitude of the moment didn't really register with him, even as he rounded first base and saw the ball gloriously disappear over the Bernie Arbour Stadium fence.
Down two runs in the bottom of the ninth inning of a playoff game at home on Sunday afternoon with two runners on base, he'd just clubbed a series-winning homer for a team that simply doesn't win playoff series. Not for 15 straight seasons, anyway.
"It didn't really hit me until I was rounding third and saw my teammates," says Hamilton Cardinals designated hitter Connor Bowie.
What he saw was pure joy.
Circle the date for golf
The date has been set for the 2018 Nustadia golf tournament, supporting minor hockey.
For information on the 14th annual Nustadia tournament (supporting minor hockey) to be held Sept. 19 at King's Forest, contact:
Brad Maxwell
VP, Marketing and Promotions
Cell: (905) 741-2678
Email: maxwell@mohawk4icecentre.ca
Click each page to view the tournament brochure
Police believe Ray Emery's death was 'a case of misadventure'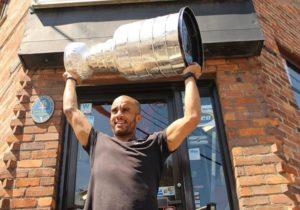 (July 15, 2018) Former NHL goalie Ray Emery has died during an early-morning swim at the dock where his friend's boat was moored at the Royal Hamilton Yacht Club.
Police confirmed the body found by divers at 2:50 p.m. on Sunday in Hamilton Harbour is the 35-year-old Stanley Cup-winning goaltender originally from Cayuga.
Full story at thespec.com
'He was a generous man': Ray Emery remembered as fiery competitor, dedicated friend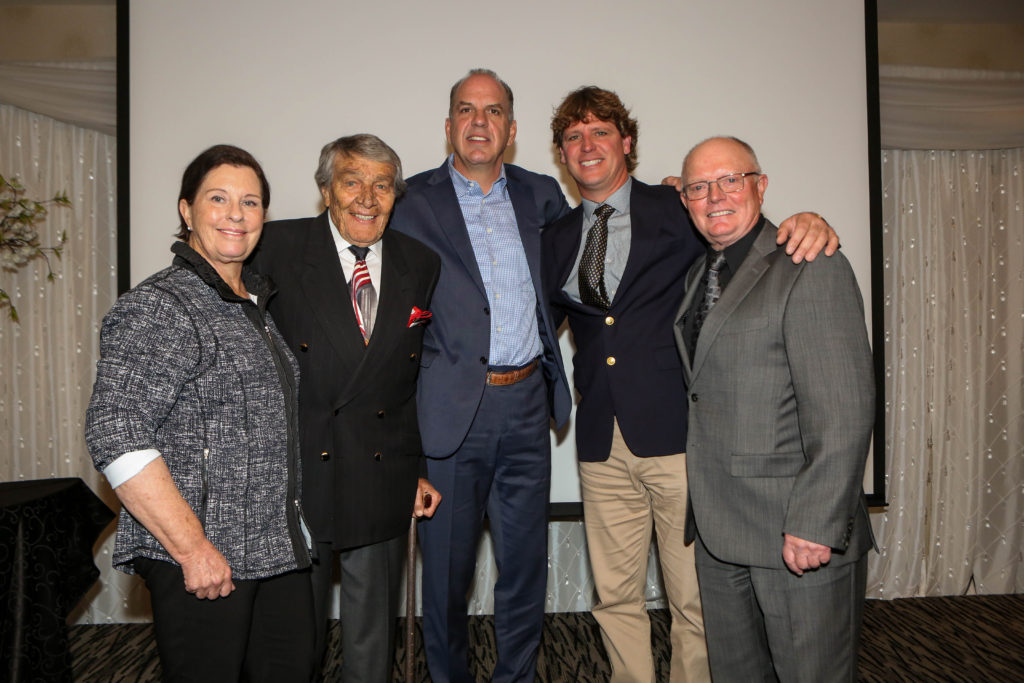 The Hamilton Sports Hall of Fame will induct the Class of 2017 at a special luncheon, Tuesday, October 17 at 12 noon at the Best Western Premier C Hotel by Carmen's, 1530 Stone Church Rd. E. in Hamilton.
Full news release
Alphabetical list of inductees