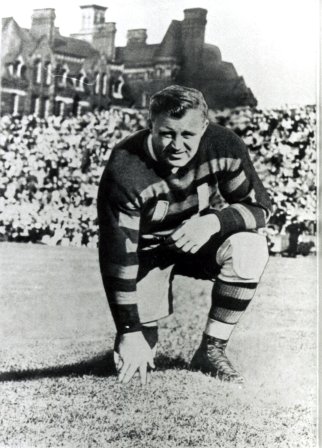 He was born in Winnipeg and played football in Ottawa and Regina, but Brian Timmis is best known for his stellar career in Hamilton.
Timmis, nicknamed 'The Old Man of the Mountain,' was known for smashing through opposing lines. He played 20 years of Canadian football – an amazing feat, since he played both offence and defence.
In 1921 he suffered a neck injury, caused by his chinstrap, so he decided to play the rest of his career without a helmet.
Timmis joined the Hamilton Tigers in 1924 and won three Grey Cups as a player with with them in 1928, 1929 and 1932. He came out of retirement in 1936 at the age of 38, to play for the Tigers in a playoff game in Ottawa.
He won a fourth Grey Cup as a coach of the Hamilton Flying Wildcats in 1943.
Brian Timmis, a two time East All-Star, was an inaugural member of the Canadian Football Hall of Fame, and is also enshrined in Canada's Sports Hall of Fame.
2020 Inductee video: