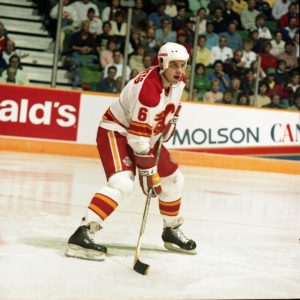 A product of the Hamilton Huskies programme, Ric Nattress was drafted 27th overall  by Montreal from the Brantford Alexanders in 1980. He appeared in 40 games with the Canadiens in the 1982-83 season, played in 34 games with the Habs in 1983-84 and five more the following season, before being traded to the St. Louis Blues.
After playing two seasons with the Blues, Ric was dealt to the Calgary Flames after the 1986-87 season. He played for four years in Calgary and was on the Flames Stanley Cup Championship team in 1989, before being traded to Toronto in a ten-player block buster deal, which also sent Doug Gilmour to Toronto. After joining the Philadelphia Flyers, as a free agent for the 1992-93 season, he retired.
All told, Ric played 536 regular season games and while he was known as a solid positional rearguard, he still managed to record 29 goals and 135 assists for 164 points. The blue liner also appeared in 67 playoff games collecting five goals and 10 assists.
The 6-3, 210 pounder was also a member of the 1985  AHL Calder Cup Champion Sherbrooke Canadiens and played seven games with Team Canada in the 1991 World Hockey Championship.
Following his playing days, Ric was an assistant coach during the first two years of the Hamilton Bulldogs of the American Hockey League starting in 1996 and has been involved at the junior hockey level as well. He has also remained close to the game working radio and TV and entertaining people at sports dinners across the country.