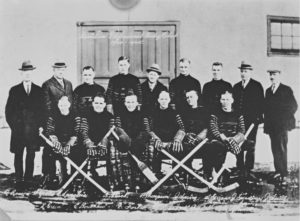 The NHL's Tigers moved to Hamilton from Quebec City in 1920. They had been in Quebec since 1878. The Tigers played in Hamilton's Barton Street Arena. The team for 1924-25 included future Hall of Famers Billy Burch and Wilfred 'Shorty' Green. The coach was Jimmy Gardner.
The Tigers finished in first place in the regular season, with a 19-10-1 record, but they became the first team to go on strike for more pay. They demanded $200 pay for six extra games the league had tacked on to the schedule. But Tigers' management ruled the players were under contract from December 1 to March 30, regardless of the number of games they played. The team then passed the issue on to the league. The NHL suspended them and fined the players $200.
The following season they became the New York Americans.
The Tigers black, gold and white sweater for the 1924-25 season is considered one of the most rare pieces of hockey memorabilia in the world.