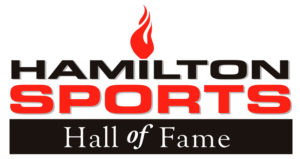 Thank you for participating in our hall of fame nomination process.
In order to nominate a person or team for induction, it is important to first review the nomination criteria as documented in the HSHOF bylaws. You may wish to also check the list of HSHOF inductees who have already been honoured, and the existing list of those already nominated.
In summary:
Nominations should provide extensive detail on the merits of the particular subject.
The nominee must have represented a sport with distinction in athletic competition; in Hamilton, inside/outside the province; or whose example has brought great credit to the sport and high respect for the individual; and whose conduct will not bring discredit to the Hall.
The nominee must either have been born in Hamilton, or been a "Hamilton" resident during the period for which outstanding service is claimed.
The nominee must have compiled an outstanding record in one or more sports.
A nominee, not born in Hamilton, may be eligible if, in the opinion of the Board of Directors, the individual should be recognized by the Hamilton Sports Hall of Fame.
The term "Builder" should be defined as to illustrate a possible variety of functions such as coach, official, administrator, patron, media (journalist/broadcaster) and sports medicine.
At no time shall individuals or team nominees be accepted whose conduct is or has been such as to bring discredit to the Hall.