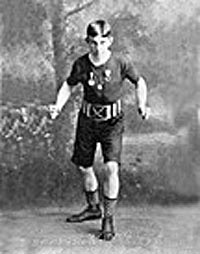 Jack Caffery, from Hamilton's Corktown neighbourhood, represented St. Patrick's Athletic Association and St. Patrick's Athletic Club.
In 1900, Caffery became the first Canadian to win the Boston Marathon. He stunned the Americans as he led a 1-2-3 sweep of that year's results with fellow Hamiltonians Billy Sherring and Fred Hughson, finishing second and third respectively. He set a Boston record of 2:39:44.4 for the 25 mile distance of the era. To show it was no fluke, Caffery won the next year as well, chopping an astounding 10 seconds off his previous mark as he was timed in 2:29:23.6. His 1901 record, witnessed by more than 25,000 people, stood for more than 20 years.
Nicknamed 'the dapper little Canadian,' the son of Irish Immigrants and a teamster by trade, Caffery won the oldest road race in North America, The Around the Bay Road Race, in 1898 and 1900. He also finished 11th in the 1908 Summer Olympics.